Frances Walton Competition
---
For more than thirty years, the LMC's Frances Walton Competition has provided a unique opportunity for Classical musicians ages 20 to 35 to audition for an award package including generous cash prizes; a live performance on Classical KING-FM 98.1, one of the premier Classical music stations in the U.S.; and an outreach and recital tour of locations throughout Washington State.
The 2023 Frances Walton Competition Applications Closed March 1st, 2023!
Only 200 accepted – apply early!
Apply at https://lmcseattle.getacceptd.com
Information for 2023 FWC Applicants:
Info for Small Ensemble Applicants
Info for Solo Entry: Brass Applicants
Info for Solo Entry: Marimba Applicants
Info for Solo Entry: Piano Applicants
Info for Solo Entry: Recorder Applicants
Info for Solo Entry: String Applicants
Info for Solo Entry: Voice Applicants
Info for Solo Entry: Woodwind Applicants
Restrictions on Multiple Entries
Questions? Contact the FWC Committee at awards@lmcseattle.org
See below for information about our most recent competition in 2022 and about past competitions and winners.
Questions about applying or the competition? Email awards@lmcseattle.org.
---
2022 Frances Walton Competition – #FWC2022
The 2022 Frances Walton Competition winners have been announced!
The Small Ensemble Winner is Tallā Rouge, viola duo.
The Solo Winners are Seattle's own Caitlin Kelley, violin, and Jichen Zhang, saxophone.
A huge congratulations to the 2022 Winners and to the enormously-talented 2022 Finals Cohort!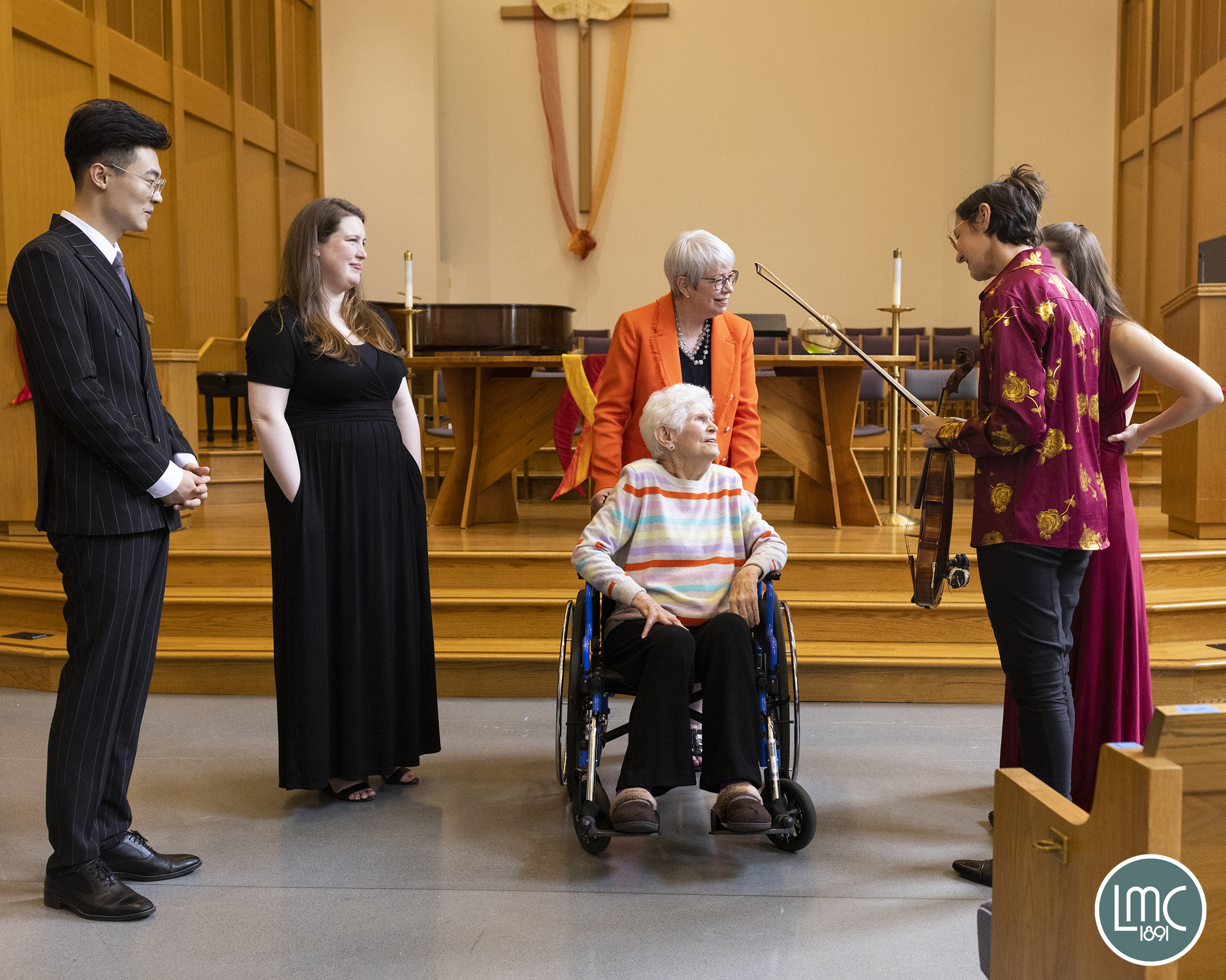 2022 Winners' Concert:
The 2022 FWC Finals were held on Saturday, June 4th from 9am to 5:30pm, in Seattle's University District, at University Congregational United Church of Christ, with a Winners' Announcement Ceremony at 6:30pm. Sunday, June 5th at 2pm was when the Winners' Concert was held. All events are free and open to the public.
Solo Finalists:
| | |
| --- | --- |
|   |  Saturday Audition Time |
| Ayoun Kim, Cello | 3:50pm |
| Bensen Kwan, Marimba | 3:25pm |
| Chase Miller, Clarinet | 2:50pm |
| Caitlin Kelley, Violin | 11:40am |
| Ho Yin Li, French horn | 2:00pm |
| HyeYeon Kim, Piano | 10:40am |
| Jichen Zhang, Saxophone | 2:25pm |
| Keika Mori, Piano | 9:50am |
| Lauren Nichols, Flute | 12:30pm |
| Lyndon Ji, Piano | 9:25am |
| Mark Covey, Bass-baritone | 11:15am |
| Michael Vascones, Guitar | 10:15am |
| William Lum, Euphonium | 12:05pm |
| Yi-Yang Chen, Piano | 9:00am |
Small Ensemble Finalists:
| | | |
| --- | --- | --- |
|   | | Saturday Audition Time |
| Høyde Quartet (String Quartet) | Owen Cromwell, Grace Alexander, Louis Dhoore, Henry Paton | 4:40pm |
| Soma Quartet (Saxophone Quartet) | David Bayard, Paul Lorenz, Sean Bradley, Ting Hua Liang | 5:05pm |
| Tallā Rouge (Viola Duo) | Aria Cheregosha, Lauren Spaulding | 4:15pm |
Please see this page, as well as our Facebook, Instagram, and Twitter pages, for the latest news on the FWC!
2022 FWC Program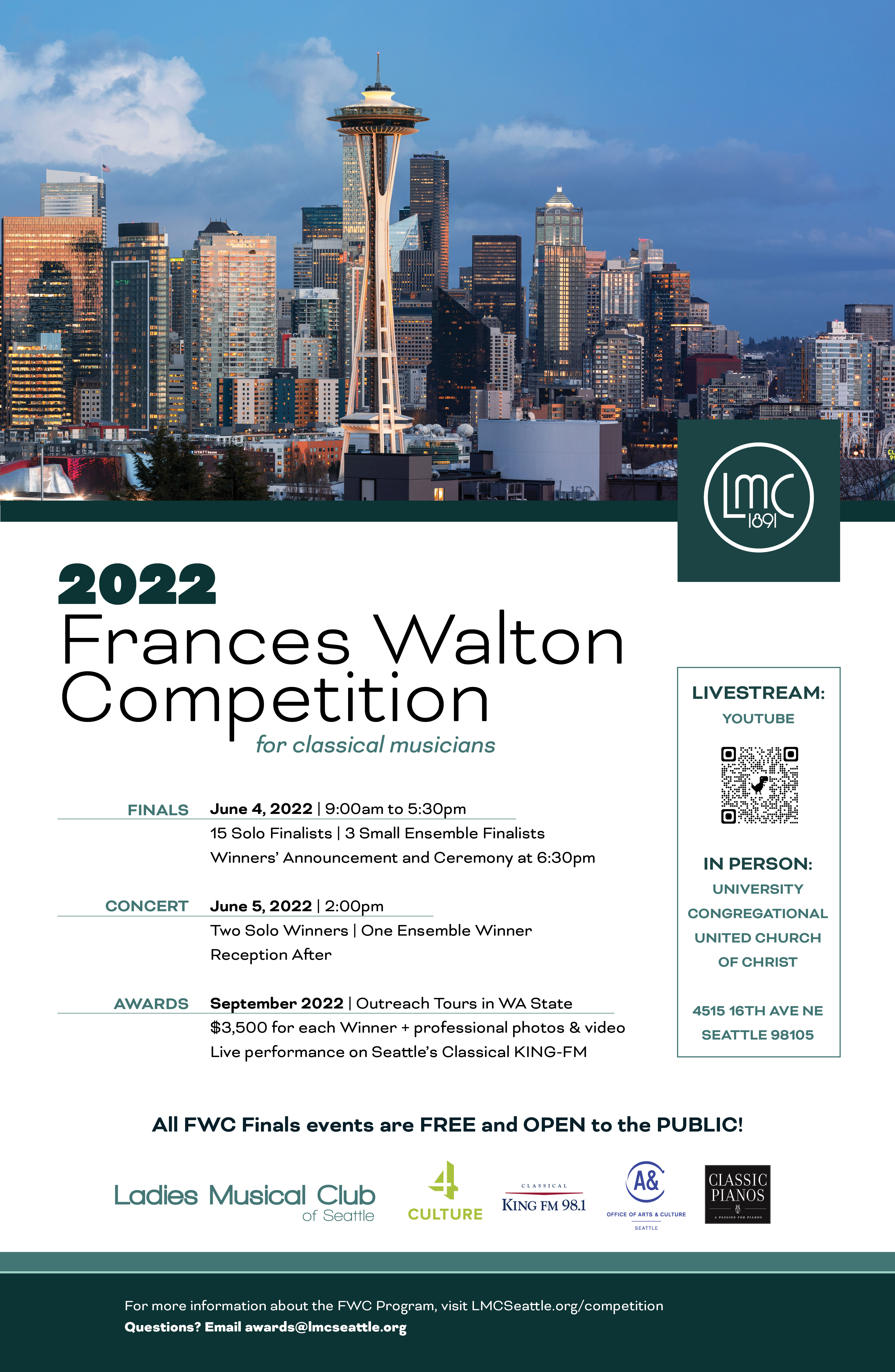 ---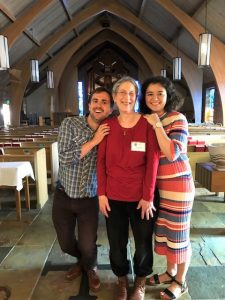 We have great appreciation to our former Chair, Gail Perstein, for her twenty-three years of service to the FWC. Gail worked tirelessly to develop and grow the FWC, increasing cash prizes, adding a tour, and developing a small-ensemble division. The Ladies Musical Club of Seattle is grateful for her vision and accomplishments in serving young musicians and our community!
---
The Zēlos Saxophone Quartet, winners of the ensemble division in 2018, on their 2018 Puget Sound tour:
Lesley Baird, mezzo-soprano, solo winner, 2016, in the Classical KING-FM 98.1 studios:
Competition Winners
Competition winners organized by instrument