Frances Walton Competition
The Governor of the State of Washington has banned all gatherings of more than 250 people as of today, March 11, in King County, where the Frances Walton Competition is held.  Due to this, and the news that at least one university in the country has put travel restrictions on Seattle/King County, we must cancel this year's Frances Walton Competition.  All people who have completed their applications will receive a full refund of their application fee.  Thank you for entering or considering entered our competition, and stay healthy.
Held annually in the spring, the Frances Walton Competition is a solo and ensemble competition for classical soloists ages 20-35 and small ensembles of two, three or four members with an averaged age of 20-35 who live or study in one of the following 19 western states: Alaska, Arizona, California, Colorado, Hawaii, Idaho, Kansas, Nebraska, Montana, Nevada, New Mexico, North Dakota, Oklahoma, Oregon, South Dakota, Texas, Utah, Washington, and Wyoming.
Competitors submit audio auditions in the Spring. Audition finalists participate in the day-long competition which will be held in Seattle in June each year. Four solo winners and one ensemble winner are selected. The winners receive cash prizes and present a free public concert in the evening on the day of the competition.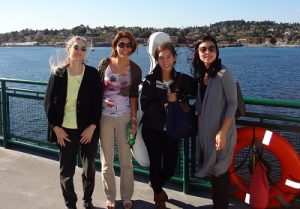 Each September, the winners participate in three statewide tours: Eastern Washington, Western Washington and the Puget Sound region. Accompanied by LMC members, these talented artists present free public recitals and visit schools in outlying areas that have limited access to classical music. The winners perform in classrooms or at assemblies and answer students' questions about music, the instruments and their training background.
How to Apply

The application deadline (including audio recordings) is typically in late March. All applications are submitted online at https://app.getacceptd.com/lmcseattle. Rules for each category will appear on each category's page: small ensemble, marimba, piano, strings, voice, and winds.
If you prefer to see the guidelines for the entire competition in one place rather than broken into categories (as on the Get Acceptd site), or wish to see them before logging into Get Acceptd, read the following download: 2020 Information Competition.
If you have any questions, please email the competition committee: awards@lmcseattle.org.
The Zelos Saxophone Quartet, winners of the ensemble division in 2018, on their 2018 Puget Sound tour:
Lesley Baird, mezzo-soprano, solo winner, 2016, in the Classical KING-FM 98.1 studios:
Competition Winners
Competition winners organized by instrument