Frances Walton Competition
---
For more than thirty years the Frances Walton Competition has provided a unique opportunity for Classical musicians ages 20 to 35 to audition for an award package including generous cash prizes; a live performance on Classical KING-FM 98.1, one of the premier Classical music stations in the U.S.; and an outreach and recital tour of locations throughout the State of Washington.
The Ladies Musical Club of Seattle is excited to announce that we will begin accepting applications for the 2022 Frances Walton Competition in the Fall of 2021. As our plans develop, we will provide more information on this page, as well as on our Facebook, Instagram, and Twitter pages. Please check back periodically on any of these sites for the latest details.
Questions? Contact the FWC Committee at awards@lmcseattle.org
---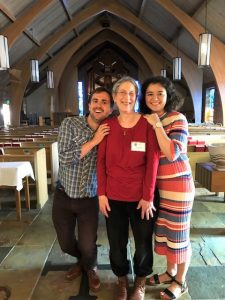 As we move forward with plans for the 2022 Frances Walton Competition, we look back with great appreciation to our former Chair, Gail Perstein, for her twenty-three years of service to the FWC. Gail worked tirelessly to develop and grow the FWC, increasing cash prizes, adding a tour, and developing a small-ensemble division. The Ladies Musical Club of Seattle is grateful for her vision and accomplishments in serving young musicians and our community!
---
The Zelos Saxophone Quartet, winners of the ensemble division in 2018, on their 2018 Puget Sound tour:
Lesley Baird, mezzo-soprano, solo winner, 2016, in the Classical KING-FM 98.1 studios:
Competition Winners
Competition winners organized by instrument