Education
Music in Schools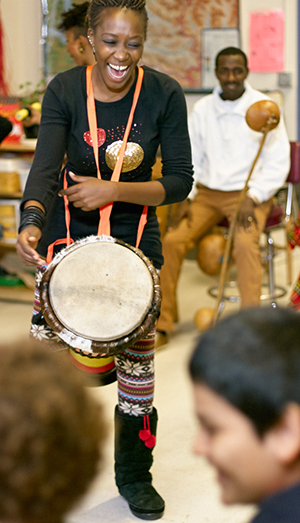 The Music in Schools program supports between five and seven underserved elementary schools in the Seattle Public Schools district each school year, presenting a variety of programs at no charge to the schools. The participating schools change periodically in response to dynamic requirements and curriculum load; the goal of this sustained support is to build a habit of music within the school's curriculum and the students' lives. We reach more than 10,000 students each year, either in the classroom, at school-wide assemblies, and remotely through video performances. More than 25 unique artists and programs are available throughout each school year in performances that include chamber opera, classic stories set to music, participatory dance and music, instrument groups (brass, woodwind), soloists, diverse ethnic music and instruments.
Participating Schools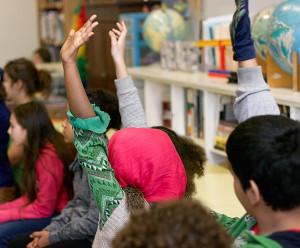 LMC members and adjunct professional musicians visit local classrooms and school assemblies, providing music enrichment to students in the participating schools in person or remotely. Additionally, a before-school chorus allows students at one elementary school to have the enjoyment of learning new musical skills, the joy of regularly making music and the satisfaction of public performances.
PARTICIPATING SCHOOLS AND ACTIVITIES, PAST YEARS
Collaborations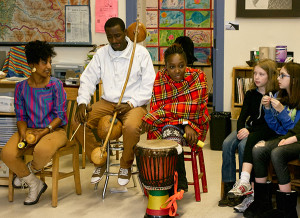 LMC's collaboration with the Meany Center for the Performing Arts allows internationally renowned touring artists to meet with area elementary, middle and high schools for performances, residencies and master classes. These artists from around the world, booked by Meany Center, University of Washington are committed to teaching and community outreach; they provide one-on-one or group coaching, while modeling multi-cultural roles. Recently, thirty-one residencies were offered, providing more than 1,850 musical experiences.
Competition Winners Award Tour School Visits
Each September, the winners of the Frances Walton Competition the previous June participate in three statewide Award Tours: Eastern Washington, Western Washington and the Puget Sound region in locations arranged by LMC members. Accompanied by LMC members, these talented artists present free public recitals and visit schools in outlying areas that rarely experience classical music. The winners perform in classrooms or at assemblies and answer students' questions about music, the instruments and their training background.