Public Concerts and Other LMC Events
Free Public Concert Series
LMC's most visible face is its Public Concert Series that offers over 50 free classical music concerts from October through May by LMC member-musicians and guests. The classical music series is presented at a variety of venues throughout the Seattle metro area, including Seattle Art Museum, Frye Art Museum, Seattle Public Library, Central and West Seattle Branches, University House Wallingford, Mirabella, Bellevue's Crossroads Community Center Theater, Congregational Church on Mercer Island, and the Music Center of the Northwest in North Seattle.
These intimate, one-half-hour to one-hour, music programs are free and open to the public. Many of these are now available online through our Facebook page and YouTube channel. No advance tickets are required. On the day of the performance at the Frye Museum, attendees are asked to obtain a free ticket at the front desk to monitor auditorium seating.
With generous support and partnership from:
Event Calendar
Dec
1
Fri
Classical KING and LMC Present: Aero Quartet, 2023 Frances Walton Competition Small Ensemble Alternate Winners
Dec 1 @ 7:00 pm – 8:00 pm
Listen to 2023 FWC Small Ensemble Alternate Winners Aero Saxophone Quartet perform on Classical KING's Northwest Focus Live!
Ladies Musical Club and Classical KING
present
aero saxophone quartet
2023 Frances walton competition alternate winners
small ensemble division
Northwest Focus Live
Friday, December 1, 2023 at 7 PM
Bop (2004) by Jennifer Higdon (b. 1962)
An Elegy: A Cry from the Grave (2015) by Carlos Simon (b. 1986)
Saxophone Quartet, Op. 109 (1932) by Alexander Glazunov (1865-1936)
III. Finale
Danzón No. 5 "Portales de Madrugada" (1997) by Arturo Márquez (b. 1950)
Wapango (1993) by Paquito D'Rivera (b. 1948)
Cape Cod Chips (2007) by Hiromi Uehara (b. 1979) arr. Corey Dundee
The Iberia Suite (2004) by Ed Calle (b. 1959)
I. Midnight Rumba
II. Siesta
III. Pamplona
ABOUT THE ARTISTS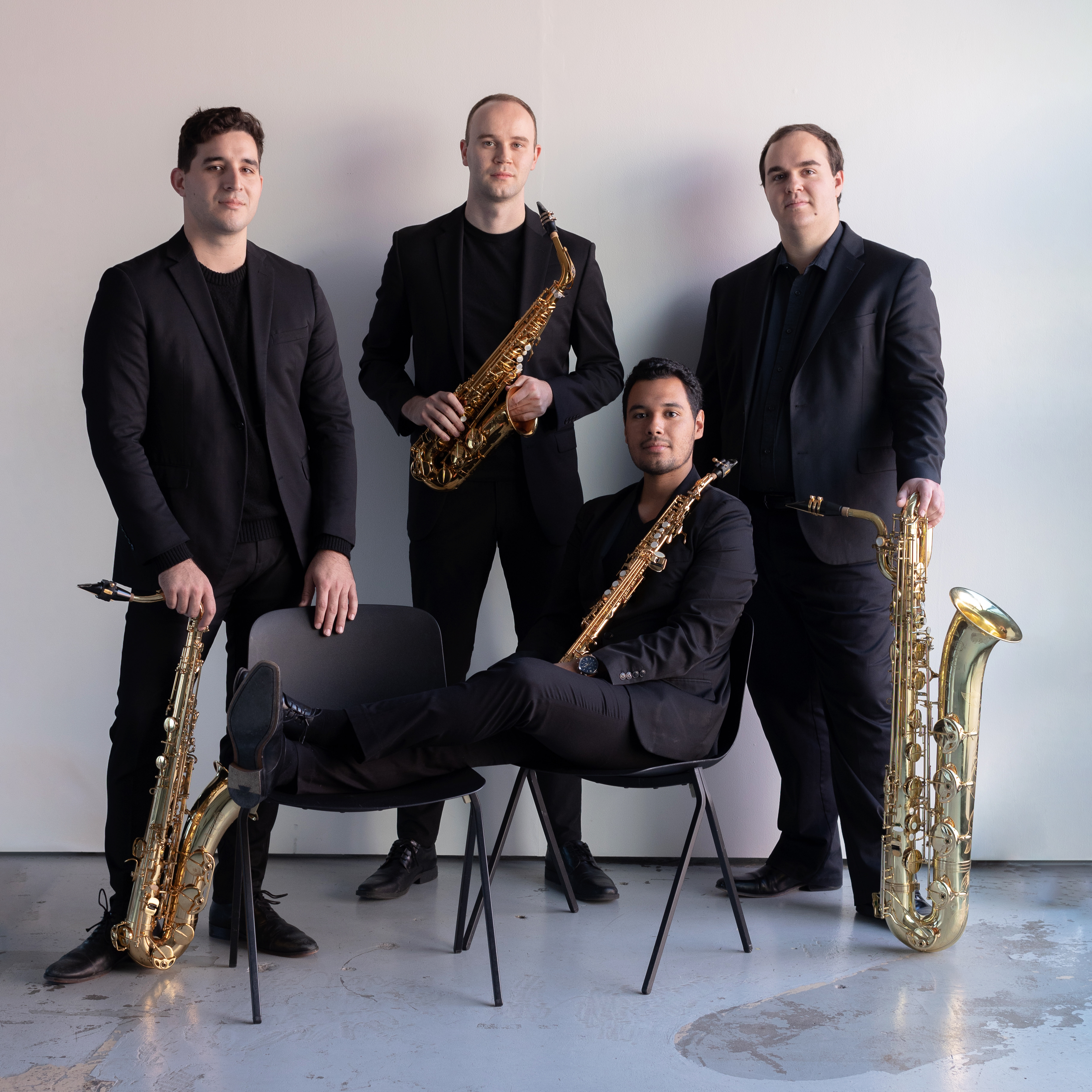 Praised by Pulitzer Prize finalist and Grammy-winning composer Augusta Read Thomas for their "nuanced, colorful, and artfully sculpted" interpretations, Aero Quartet has appeared on chamber music series including Detroit Chamber Winds and Strings, Chesapeake Music, Valparaiso Concert Association, and The Dame Myra Hess Concerts broadcast on WFMT Chicago. Aero is consistently recognized for their versatile and varied performances, with programming featuring conventional and contemporary works for saxophone, as well as arrangements spanning centuries of musical tradition.
As educators, Aero has presented masterclasses at institutions including the University of Wisconsin–Madison, University of Wisconsin-Eau Claire, University of Missouri–Kansas City, and the University of Kansas. Aero Quartet heavily values educational outreach, having performed for and worked with students at public schools across the Midwest and East Coast.
Formed in 2020 at the University of Michigan in Ann Arbor, Aero Quartet received the Gold Medal at the 2021 Fischoff National Chamber Music Competition, along with First Prize awards at the Music Teachers National Association Chamber Music Competition and Briggs Chamber Music Competition, among others. Aero's artistic mission is to provide audiences with listening experiences that are engaging, entertaining, and thought-provoking, whilst actively contributing to the evolving chamber music medium by commissioning new repertoire and exploring eclectic arrangements. You can hear Aero on their debut album, released on the Orchid Classics label in September 2023, which is available on all streaming platforms.
Supported By:
Dec
8
Fri
Classical KING and LMC Present: Zhengyi Huang, 2023 Frances Walton Competition Solo Alternate Winner
Dec 8 @ 7:00 pm – 8:00 pm
Listen to 2023 FWC Solo Alternate Winner Zhengyi Huang, piano, perform on Classical KING's Northwest Focus Live!
Ladies Musical Club and Classical KING
present
Zhengyi Huang, piano
2023 Frances walton competition alternate winner
solo division
Northwest Focus Live
Friday, December 8, 2023 at 7 PM
Six Pieces for Piano, Op. 118, Johannes Brahms (1833-1897)
Intermezzo in A minor. Allegro non assai, ma molto appassionato
Intermezzo in A major. Andante teneramente
Ballade in G minor. Allegro energico
Intermezzo in F minor. Allegretto un poco agitato
Romanze in F major. Andante
Intermezzo in E♭ minor. Andante, largo e mesto
Totentanz, S.525, Franz Liszt (1811-1886)
ABOUT THE ARTIST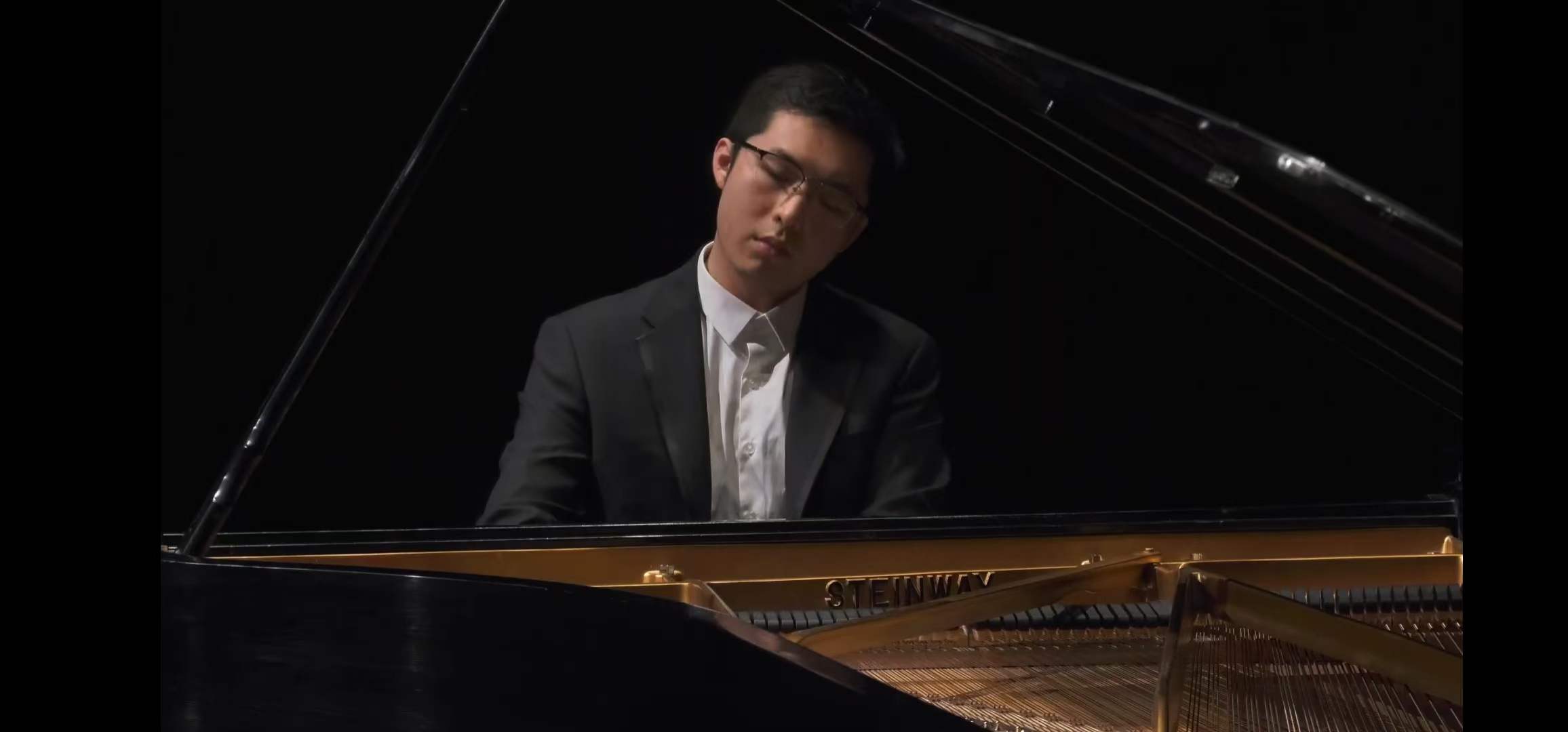 Zhengyi Huang is from Shenzhen, China. He earned his two Master of Music degrees in piano performance and in Chamber Music with Professor Logan Skelton at the University of Michigan, under a full-tuition scholarship. He is currently the only piano candidate of the prestigious Artist Diploma program at Rice University studying with Professor Jon Kimura Parker.
His competition wins for last two seasons include first prize in the Marian Garcia Piano Competition, first and audience favorite prizes in Grand Junction Concerto competition, second place in the MTNA-Steinway Young Artist National Final (After winning fist places in Michigan State and in East Central Division), first place in the Rosamond Haeberle Piano Award competition, Third place in the Settle International Competition, grand prize in Concours Européen de Piano, 1st place in the Eisemann International Young Artists Competition, grand prize in the 81st Naftzger Young Artist Competition, as well as the gold medal in the Rubato International Competition. He recently performed with the Grand Junction Symphony Orchestra in Colorado, and with the Richardson Symphony in Texas. He also received full tuition fellowships from Piano Texas International Festival, Rebecca Penneys Festival, and Gilmore International Festival. This fall, He is invited to give solo recitals and concerto performances in Las Vegas's Smith Center for the performing art, Kawai Gallery in Houston, Oxford performing center in Alabama, Ann Arbor City Club in Michigan, and in the Theatre du Ranelagh in Paris, where an album will be recorded and released throughout various platforms.
Supported By: