Public Concerts and Events
Free Public Concert Series
LMC's most visible face is its Public Concert Series that offers over 50 free classical music concerts from October through May by LMC member-musicians and guests. The classical music series is presented at a variety of venues throughout the Seattle metro area, including Seattle Art Museum, Frye Art Museum, Seattle Public Library, Central and West Seattle Branches, University House Wallingford, Mirabella, Bellevue's Crossroads Community Center Theater and the Music Center of the Northwest in North Seattle.
These intimate, one-hour, music programs are free and open to the public. No advance tickets are required. On the day of the performance at the Frye Museum, attendees are asked to obtain a free ticket at the front desk to monitor auditorium seating.
Apr
8
Wed
Piano music by Mozart & Chopin, Folk song arrangements for violin & mezzo-soprano **CANCELED**

@ Seattle Central Library
Apr 8 @ 12:00 pm
COVID 19 updates for the Seattle Public Library: As of March 5, the Seattle Public Library is operating usual.  We recommend checking the SPL site HERE before you come for the most current information.
Rondo in a-Minor K511 by  W.A. Mozart (1756-1791)
Mazurka in b-minor, op.33 no.4 by Frederic Chopin (1810-1849)
Polonaise in C sharp minor, op.26, no.1 by Frederic Chopin (1810-1849)
Valentina Rodov, piano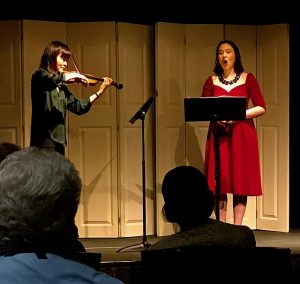 Three Old English Folk Songs arr. for voice & violin by Rebecca Clarke (1886-1979)
1. It was a lover and his lass
2. Phillis on the new made hay
3. The tailor and his mouse
Katie Stevenson, mezzo-soprano
Candice Chin, violin
May
13
Wed
Song Recital: Unsettling Femininity, Music for Piano Four Hands

@ Seattle Central Library
May 13 @ 12:00 pm
Unsettling Femininity: Works about women and by female composers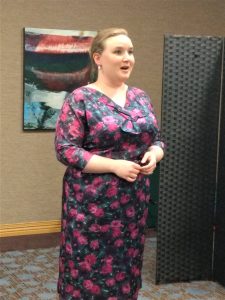 Gretchen am Spinnrade (Gretchen at the spinning wheel)  by Franz Schubert
Chanson perpétuelle (Everlasting song) by Ernest Chausson
Au pays où se fait la guerre  (In the land of war) by Henri Duparc
Sköldmön  (The Amazon) by Ture Rangström
Die Lorelei (The Loreley) by Franz Lizst
 Amber Rose Johnson, soprano and Grant Hanner (guest artist), piano
Childsplay, a program of piano 4 hands
Selections from the Slavonic Dances, Op. 46 Antonin Dvorak (1841-1904)
Slavonic Dance No. 1 in C major
Slavonic Dance No. 4 in F major
Slavonic Dance No. 6 in Ab major
Selections from Le Carnaval des Animaux Camille Saint-Saens (1835-1921)
II. Poules et Coqs
V. L'Elephant
VII. Aquarium
XIII. Le Cygne
XIV. Final
Cori Belle and Maria Khavin, piano