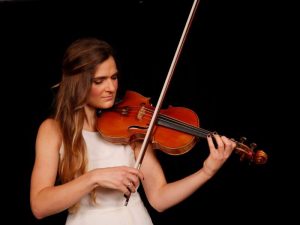 Violinist Angeliena Kam will perform violin sonatas by Wolfgang Amadeus Mozart and Edvard Grieg at LMC's public concert coming up on Thursday, February 1 at 12pm at the Seattle Art Museum. Kam will be accompanied by Jennifer Li on piano.
Kam is an established teacher and performer in the Seattle area. In addition to maintaining a violin studio of over 30 students, Angie performs a Second Violinist, Assistant Principal with the Yakima Symphony Orchestra, Tacoma Symphony, North Corner Chamber Chamber Orchestra, and the Tacoma City Ballet. Angie has performed with Idina Menzel, Il Divo, Michael Buble, and the Trans-Siberian Orchestra; she is also an active studio-recording musician. Angie holds a Bachelor in Violin Performance from the University of Oregon, and a Master in Violin Performance and String Pedagogy from the Boston Conservatory. In her spare time Angie enjoys hiking, yoga, and fuzzy animals.
Dr. Jennifer Li completed her Doctorate of Musical Arts in Piano Performance from the Manhattan School of Music in 2001. In that same year, she was awarded the Special Presentation Award by Artists International which presented her solo debut recital at Carnegie's Weill Recital Hall. Jennifer has performed in master classes for renowned concert pianists including John Perry, Lazar Berman, John O'Conor, Roslyn Tureck, among others. She has given solo recitals in New York, New Jersey, Maryland, Washington, and the Netherlands. Since returning to her hometown of Seattle in 2003, Jennifer has established a successful private teaching studio and continues to perform as a soloist and chamber musician.