Spanish dance troupe, Oleaje Flamenco presented at Licton Springs in January and will dance again at Sand Point on May 5 at 1 p.m.
Step Afrika, a Meany Center presentation of a percussive stepping, was presented to tumultuous response on February 14th to three schools:
John Muir, Sand Point and Lowell. Students enjoyed the interactive audience participation. Step Afrika was formed by steppers in sororities and fraternities.  Their members put a strong emphasis on continued education.
The Radost Folk Ensemble, which includes music of Eastern Europe, gave an assembly at Lowell in February after students had worked with the troupe leader, Sidney Deering for three days that week. They had studied the dances of Croatia, Macedonia, Bulgaria, Romania, Hungary, Bosnia, Ukraine, and Russia, and were able to join the troupe for dancing.
Shub Chitain Gill, leader of Rhythms of India, gave a participatory assembly on February 8th at Lowell and will instruct Licton Springs and Sanislo students in May.
Meany Center artists, Philobolus @ Play, innovative creative movement program worked with 5th through 8th grade students at Licton Springs February 27th and February 28th and with Lowell 5th graders on March first.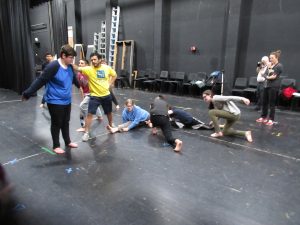 NOISE (Northwest Opera in Schools, etc.) presented the Doll Scene from Offenbach's Tales of Hoffmann to two schools in March, Sandpoint and Sanislo. More opera is coming with Seattle Opera's Cinderella en España at John Muir on May 12th.
Gansango African Dance instructor Etienne Capko drummed and taught dancing to Lowell kindergarten, first and third grade classes for three days in February. He will work with Licton Springs students May 9th and 16th.
Eduardo Mendonça will present and teach the rhythms of Brazil at Licton Springs on May 5th with the exciting Show Brazil presentation.