When:
Wednesday, September 13, 2023 @ 6:30 pm – 7:30 pm
2023-09-13T18:30:00-07:00
2023-09-13T19:30:00-07:00
Where:
Omak Performing Arts Center
20 S Cedar St
Omak
WA 98841

Come watch 2023 FWC Solo winners Yvette Kraft, violin, and Gracie Potter, trombone, perform a FREE concert at Omak Performing Arts Center in Omak, Washington.
Ladies Musical Club
presents
Yvette Kraft, Violin
Gracie Potter, Trombone
Caden Potter, piano
for the 
2023 FRANCES WALTON COMPETITION WINNERS' TOUR
Solo Violin Sonata, No. 2 in A Minor, BWV 1003, II. Fuga                                                            J.S. Bach
Sonata No. 3 in C Minor for Violin and Piano, II.                                                                  Edvard Grieg
Violin Concerto No. 2 in B Minor, Op. 7, La Campanella                                                Niccolò Paganini
The Red Violin Caprices (1999)                                                                                              John Corigliano
2023 Solo Winner Yvette Kraft, Violin
Caden Potter, Piano
A Liminal Space                                                                                                                              David Faleris
Choral, Cadence et Fugato                                                                                                        Henri Dutilleux
Concertino for Solo Trombone and Piano                                                                             Ferdinand David
 Concerto for Trombone and Orchestra                                                   Sergei Vasilyev and Vladimir Enke
2023 Solo Winner Gracie Potter, Trombone
Caden Potter, Piano
Concert Program PDF
ABOUT THE ARTISTS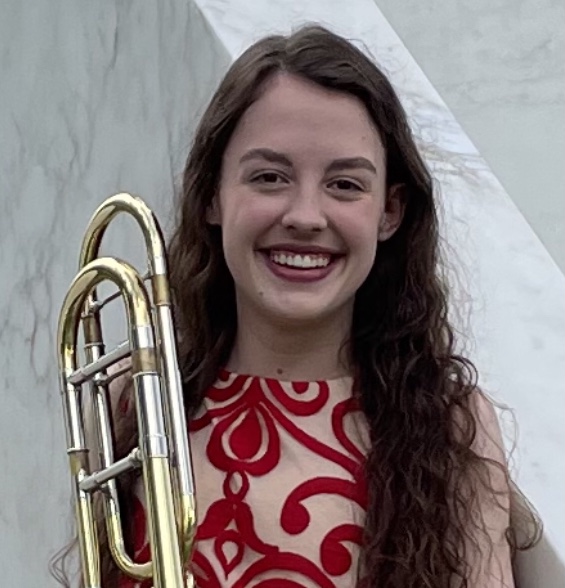 Gracie Potter is in her Senior year at the Colburn School, where she studies with David Rejano. She has performed with the LA Phil, The Phoenix Symphony, and the London Symphony Orchestra. She was a winner in the Ladies Musical Club of Seattle Competition and won the ITA Robert Marsteller Competition. She was also a finalist in the ITA Trombone Quartet Competition and a quarter finalist for the Michel Becquet International Trombone Competition. In 2022, Gracie won the Keston MAX Competition at Music Academy, placed first in the International Women's Brass Conference Trombone Category, placed second in the Final, and won the Phoenix Brass Collective competition. She is currently a Shires Rising Artist where she has received masterclasses from world renowned musicians. In 2021, she placed 3rd overall in Ian Bousfields International Trombone Competition and became a New World sub and has been subbing with them occasionally. In 2020, she received a New Horizons Fellowship from Aspen Music Festival and School and was a recipient for the Arizona MusicFest Scholarship. This summer she attended the Tanglewood Music Center and the summer prior she attended Music Academy, where she studied with Mark Lawrence, Nitzan Haroz and Weston Sprott. During the summer of 2021 she attended the Aspen Music Festival, where she received lessons and classes with James Miller, Peter Sullivan, Per Brevig, and Timothy Higgins. She took part in chamber ensembles, trombone choir, recitals, and orchestra concerts. She also won the Concerto Competition and performed the Frank Martin Concerto for Seven Winds, Timpani, and Strings with the Aspen Conducting Academy Orchestra. In 2020, she attended The MasterWorks Festival, and in 2019, she was selected to be a member of the National Youth Orchestra and performed in multiple countries on the NYO European Tour.
Pacific Northwest native Yvette Kraft debuted with the Spokane Symphony Orchestra at the age of eleven. Since then, she has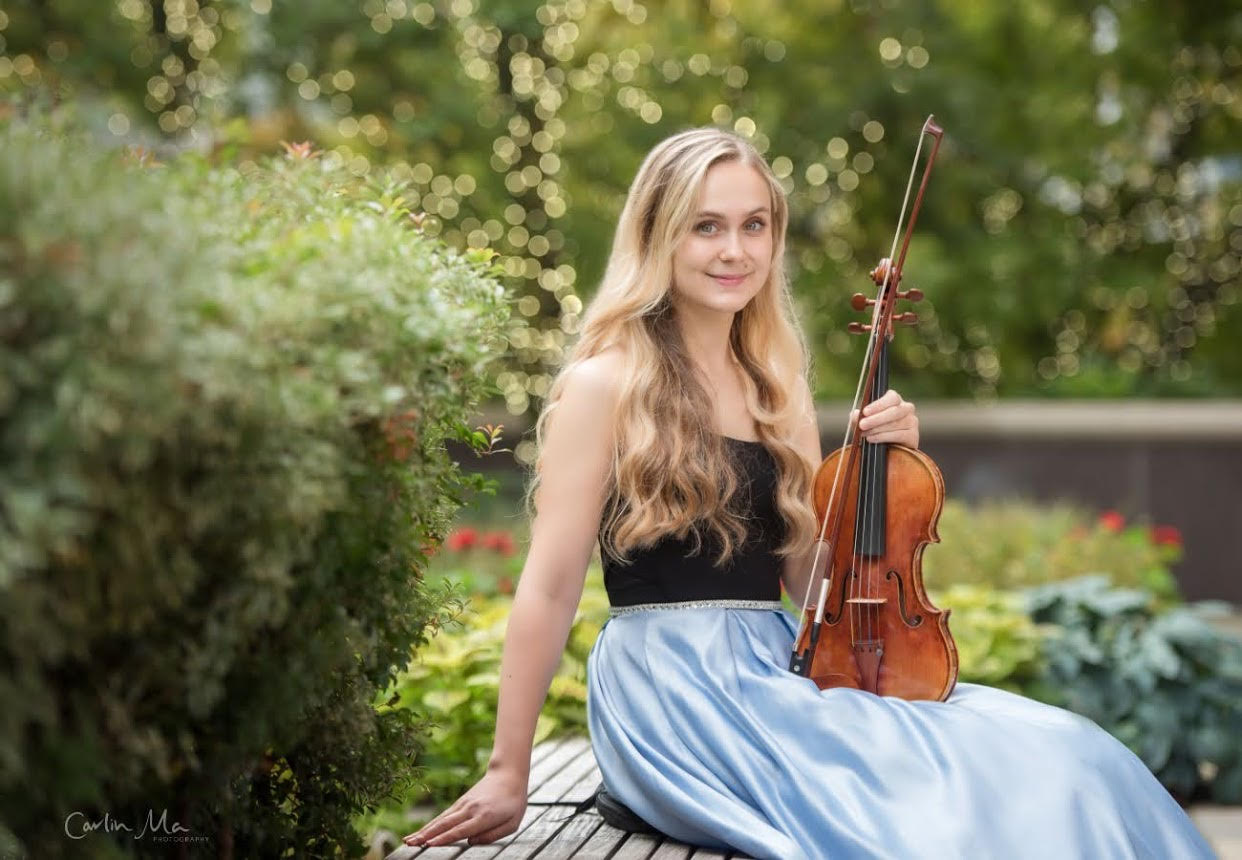 won numerous regional competitions including the coveted Seattle Young Artist Music Festival Medal. Yvette has distinguished herself nationally as a finalist in the MTNA competition and as SFCM's 2021/22 Concerto Competition winner. Internationally, Yvette placed 2nd at the 2020 Grumiaux International Violin Competition in Brussels and was a semi-finalist in the 2019 Louis Spohr International Violin Competition in Weimar. Recently Yvette performed in New York City at the prestigious Charlotte White's "Salon de Virtuosi" Holiday Concert and has been sought after as a soloist in California and Tennessee. Yvette is an NPR "From The Top" Fellow and solo performer and has performed with numerous orchestras including the Seattle Symphony. She studied with Simon James, and she currently studies with Robert Lipsett at the Colburn Conservatory of Music in Los Angeles. 
Caden Potter (piano) is a Junior in the Honors Tutorial College of Music at Ohio University where he studies with Dr. Christopher Fisher. He recently won the New Albany Symphony Orchestra Concerto Competition where he performed Gershwin's Rhapsody in Blue in March of 2023 as part of their subscriptions concert series. He also was Ohio State's MTNA runner up in piano and in 2022 he was a finalist in the Ohio University Concerto Competition. In 2021 Caden won the Ohio University Incoming Freshman Concerto Competition on Marimba and performed with the Ohio University Orchestra.
In 2017 Caden became a member of the Phoenix Youth Symphony as a percussionist and timpanist. In 2019, he won the Arizona Piano Institute Concerto Competition and soloed with the Phoenix Youth Symphony. Caden also soloed on marimba with the Phoenix Youth Symphony Percussion Ensemble.
Caden regularly collaborates with singers and instrumentalists at Ohio University and performs as a percussionist in their symphonic bands.
Supported By: