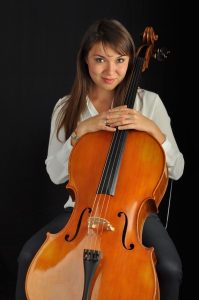 In September, audiences will have the chance to enjoy several more FREE concerts held in venues located in various parts of Washington State. The programs feature solo and ensemble competition winners of the 2019 Frances Walton Competition, sponsored by the Ladies Musical Club of Seattle. Bring the whole family and inspire your young, budding musicians!
Solo pianist Yukino Miyake and solo cellist Diana Yusupov will display the extraordinary musical skills that helped them win this prestigious competition in concerts that will take place in Raymond, Sekiu, and one more venue, TBA. They will be joined by collaborative pianist Evangeliya Delizonas-Khukhua.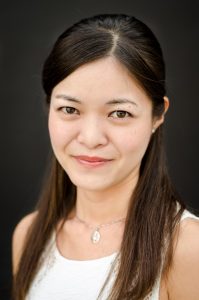 2:00 P.M., SUNDAY, SEPTEMBER 8, 2019
Raymond Theatre
323 Third Street, Raymond, WA
7:45 P.M., SUNDAY, SEPTEMBER 9, 2018
Sekiu Center
42 Rice St., Sekiu, WA
Third concert TBA
Audiences will also have three opportunities to hear first-class chamber music by the 2019 ensemble winners, the virtuosic Golden Bear Trio, formed in 2018. The members are not only accomplished chamber musicians and soloists, but also fellow students at UC Berkeley. Their studies include music, molecular and cell biology, architecture, and statistics. The trio is coached by Leighton Fong.  Jolie Huang (piano) is working on BA degrees in science and music.  Billy Fang (violin) has a BA in math from Princeton and is working on a PhD in Statistics.  Emiel Cockx (cello) is from Leuven, Belgium, and studied Civil Engineering Architecture at KU Leuven. He is currently enrolled in the Graduate School of Architecture.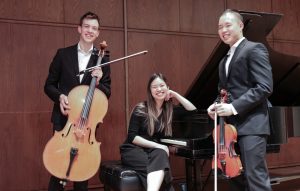 2:00 P.M., SUNDAY, SEPTEMBER 8, 2019
Englewood Christian Church
511 N. 44th Ave., Yakima, WA 98908
7:00 P.M. TUESDAY, SEPTEMBER 10, 2019
Lake Chelan Lutheran Church
216 W. Nixon Ave., Chelan, WA
7:00 P.M. WEDNESDAY, SEPTEMBER 11, 2019
Performing Arts Center
20 South Cedar Street, Omak, WA