University of Puget Sound Director of Vocal Studies, Dawn Padula, mezzo-soprano makes her LMC debut on Saturday, December 2 at the Frye Art Museum.
Dr. Padula will perform Maurice Ravel's Histoires Naturelles (Natural Histories) a song cycle of poems about various animals and will be accompanied by Joan Lundquist on piano. Dr. Padula's detailed biography, recordings and upcoming performances can be found at dawnpadula.com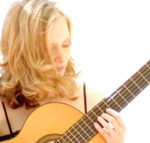 The other half of the one-hour program will be international performing and recording artist Hilary Field, guitar, performing works of her own composition. Find out more about Hilary at hilaryfield.com.
*The five songs of Histoires Naturelles are:
Le paon (The peacock) – The peacock is described as waiting in his finery for the peahen he is to marry. She does not appear, but his vanity makes him confident that she will come tomorrow.
Le grillon (The cricket) – The cricket returns to his home at the end of the day and obsessively puts it in order, before burrowing deep into the earth.
Le cygne (The swan) – The swan is distracted by reflections in the water, confusing the image of his own neck for a woman's arm. Each time he plunges his beak into the water vainly fishing for reflections he brings out a worm, and so grows fat.
Le martin-pêcheur (The kingfisher) – A fisherman is pleased and proud that a beautiful kingfisher has just perched on his fishing rod before eventually flying on.
La pintade (The guinea fowl) – The guinea fowl is ugly and belligerent, attacking the hens and even the turkey in the farmyard. She occasionally gives them some respite when she leaves the yard to lay an egg out of sight, in the countryside.
*Song descriptions taken from Wikipedia.org.
For detailed program information see our web calendar.
All of our concerts are FREE and open to the public.