Dear Members and Friends of LMC,
When I joined the Ladies Musical Club of Seattle in 1995, I was tasked with creating, for the first time, a digital version of the list of International Artists LMC sponsored in concert between 1900 and 1995. I was dazzled as I typed the names of such musical luminaries as Rachmaninoff, Marian Anderson, Fritz Kreisler, and Marilyn Horne. The amazing history of our organization caught me completely off-guard! What was this group I had just joined, primarily to sing in their Public Concert Series? Who were these women—movers and shakers in the early arts history of Seattle—and what could I learn from them? What else was going on in this venerable organization?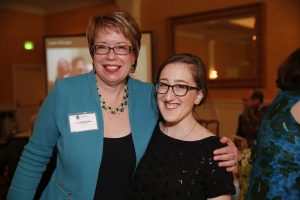 Twenty years later I found myself in the position of President of LMC, launched into a whirlwind of activity as we prepared for our 125th anniversary. It was an honor and a privilege to participate with our hard-working board, committees, and members to celebrate this landmark anniversary. As we entered our 126th year, we found that our efforts during our 125th year yielded an increased awareness in our community about LMC's impactful programs, an overall increase in audiences for our Public Concert Series, and increase in new member auditionees.
LMC is poised to continue its work on behalf of the community it has so diligently and faithfully served for more than a century. Along with the Public Concert Series, LMC reaches out to children through our Music in Schools Program, as well as to young musicians through our Frances Walton Competition. The work our organization accomplishes never ceases to amaze me!
I am deeply grateful for the opportunities I have had with LMC as a performer, board member, President, and arts advocate, and I am proud to continue to serve our organization and our community as an active member of LMC.
Sincerely,
Lynn Muehleisen
President, Ladies Musical Club of Seattle
Click to open and read complete 2016-2017 Annual Financial Report. (PDF file)